Frequently asked questions, or FAQs, are a terrific method to improve your website's user experience for your customers. It enables you to respond to the most frequently asked questions about your product or service.
In addition, the FAQ area is important for converting visitors into customers because consumers may abandon your product or service without even contacting you. As a result, a FAQ page enables you to demonstrate how your company's product may assist that user. High-level solutions to your client's most common questions can be found on a FAQ page.
Why FAQs are Important to your SEO Strategy
Are FAQ pages good for SEO? Do they add any value to SEO strategy?
Strong FAQ pages are good for SEO. FAQ pages are beneficial to organic performance when they are optimized for relevant keywords, well-designed for optimal user experience (UX), and appropriately marked up with structured data. More significantly, FAQ pages assist your clients in finding answers to common problems and guiding them down the route to a solution. They're also an additional way to engage with and reach out to your target audience. As a result, it's one of the most crucial aspects of your online marketing strategy.
Unanswered queries or a desire for additional information are two of the most common causes for a user not converting into a customer. You may close the gap by having a well-developed FAQ section based on the most frequently asked questions by your clients. They also reflect high-quality, relevant content that can help with ranking.
Now that you're aware of some of the reasons why you should include a FAQ part on your website, let's look at how to make SEO-friendly FAQ pages.
How to Write a Good FAQ Page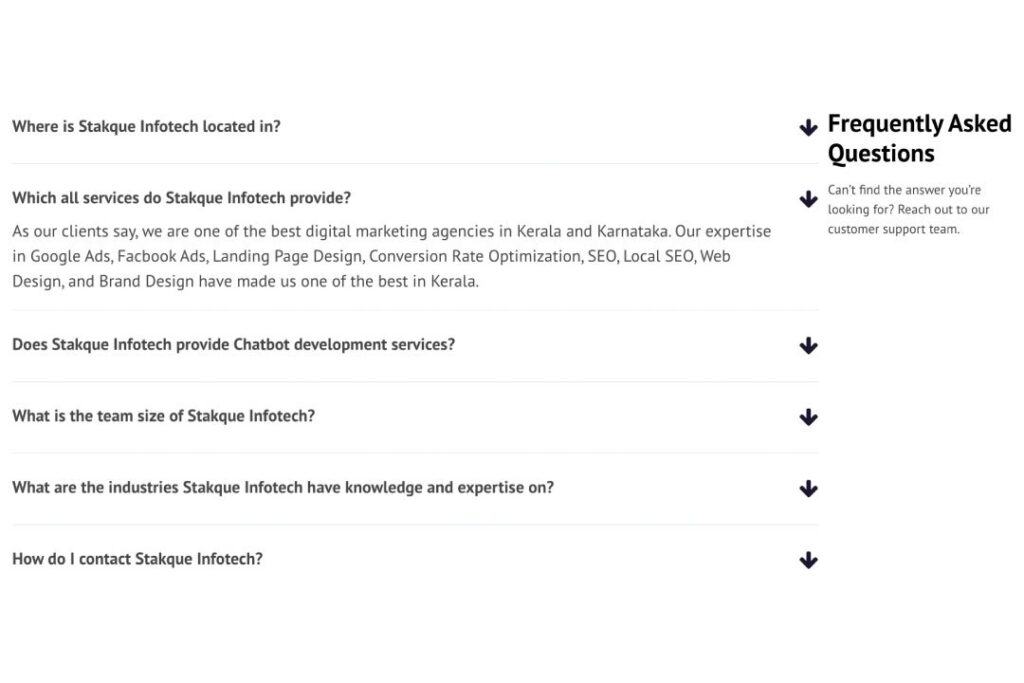 You can't expect to see Page 1 rankings or an increase in qualified organic visitors by throwing a huge list of irrelevant inquiries onto a webpage. Similarly, consumers will not value replies that do not solve their problem of having to sift through large amounts of material to locate what they need.
A good FAQ page can be created by adding relevant keywords, optimizing its title tags and meta descriptions, and many more to give a valued SEO result. Below are a few of them:
1. Find Out What Is The Most Common Questions Amongst Your Users
Understanding your target audience is the first and most critical step. The page should include the most common questions amongst your users. Being efficient with your keyword research will assist you in better understanding the questions that your potential consumers have. Customer surveys and site search data can also help you to better understand what people are looking for.
2. Give The Best Possible Answers To Each Query
Once you've compiled a comprehensive list of questions to include on your FAQ pages, it's time to provide each one the best possible answer.
When crafting the answers to your FAQs, make sure they're short, informative, and relevant to the products or services you're offering. Online behavior, especially when in the customer journey, frequently necessitates rapid, to-the-point, and simple responses. In most circumstances, long, wordy responses should be avoided. Internal linking can be used to direct users to relevant content on your site where they can learn more about a given issue.
3. Proper Utilizing Your Business Keywords
FAQ pages are an excellent place to use both short and long-tail keywords. Your FAQ page will generally rank on organic results in Google and other search engines if you use the proper terms and have good content. When these keywords are searched for, it will give you the opportunity to earn rich snippets on the search engine results page, improving your overall reach.
Check our post on Keyword Research, if you still have questions or want to learn more about keyword research.
4. Create Link back to your blog
Many of the answers on your FAQ page can be expanded upon and investigated as more in-depth material. With this in mind, you can write blog entries about the themes and include links to your FAQ answers in these posts. Your FAQ page is now assisting your Content Marketing strategy!
Internal linking can be also benefited by keeping your visitor longer in your domain. They will be satisfied with your responses and extra details. You can also move them along the customer journey at different points.
5. Optimize The Title Tag And Meta Description For Your FAQ Pages
Optimize your page by adding relevant keywords into the title tag and meta description of each FAQ page. Search engines and people both benefit from title tags since they help search engines comprehend what the page is about and users understand what information is on the page. Despite the fact that meta descriptions are not a ranking element, they are a significant component that might influence CTR.
6. Make Your FAQ Page More Interesting
Why have a dull FAQ page when you can make something more interesting and exciting?
Try including graphics, GIFs, and videos into the content to make it more engaging. What if you can also come up with a more humorous, hilarious, or entertaining approach to respond to the questions? This will also benefit your SEO approach, and you will acquire the trust of your users.
To discover more about our SEO techniques, please contact us. Our experienced analyst team can provide you with information on SEO best practices and optimization tactics that have been proved to improve the performance of your website.